Teacher Immersion Event – 2023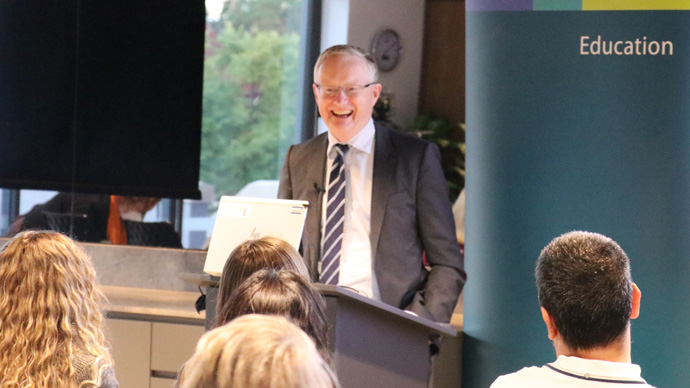 The Reserve Bank's sixth Teacher Immersion Event was held on Friday, 7 July 2023. This event provided an excellent opportunity for secondary school Economics teachers from across Australia to expand their knowledge of current economic issues and deepen their understanding of economic concepts. The event was also an opportunity for teachers to engage in professional discussions with their peers and practising economists, including the Bank's Ambassadors.
Subscribe
Please subscribe to receive updates about upcoming events and new resources as part of the Reserve Bank's public education program.
Videos
Program
Time
Program item
8:30 – 9:00
Registration
9:00 – 9:15
Welcome
Michele Bullock, Deputy Governor

9:15 – 10:15
An Economic Update
Luci Ellis, Assistant Governor
Slides

1.3MB

10:15 – 11:00
The Transmission of Monetary Policy
James Bishop, Senior Manager, Economic Analysis
Slides

611KB

11:00 – 11:30
Morning Tea and Networking
11:30 – 1:00

Explaining and Teaching Economic Concepts in the Classroom:

Productivity: From the Bank
Angelina Bruno, Lead Analyst, Economic Analysis
Slides 510KB

Productivity: From the Classroom
Alex Symonds, Public Education Economist and High School Teacher
Slides 365KB

Developments in Australia's trade and financial flows: From the Bank
Tim Atkin, Manager, International Department
Slides 930KB

Teaching Balance of Payments in the Classroom

1:00 – 2:00
Lunch and Networking
2:00 – 2:45
Inflation, Costs and Profits
Tom Williams, Senior Manager, Economic Analysis
Slides

880KB

2:45 – 3:30
Promoting economic literacy with new teacher resources from the RBA
Madeleine McCowage, Manager, Public Access and Education
Alex Symonds, Public Education Economist and High School Teacher
Slides

650KB

3:30 – 3:45
Afternoon Tea and Networking
3:45 – 4:30
Panel Discussion: Your Questions Answered
4:30 – 4:45
Closing Remarks
Phil Lowe, Governor