Teacher Immersion Event – 2021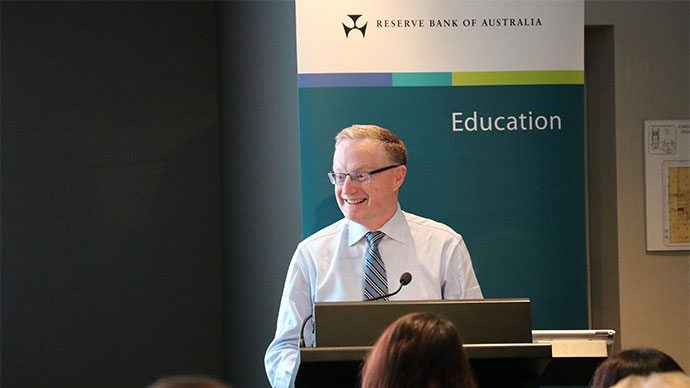 The Reserve Bank's 2021 Teacher Immersion Event will be held on Tuesday, 16 November. This professional learning event provides an excellent opportunity for secondary school Economics teachers across Australia to expand their knowledge of current economic issues and deepen their understanding of economic concepts. The event will feature short addresses by the Governor, Deputy Governor and Chief Economist, along with other senior economists from the RBA, and there will be opportunities to ask questions.
Due to COVID-19, this year's event will be held online via Zoom. In order to ensure that the event is interactive, places will be capped. For teachers who are unable to attend live, the event will be recorded and made available on the Bank's website.
Event details
Date:
Tuesday, 16 November
Time:
9.45 am to 2.30 pm AEDT
Intended audience:
High school Economics teachers
Cost:
Free
Express interest
Program
Time
Program item
09:45 – 10:00
Zoom room open for attendees to join meeting
10:00 – 10:15
Welcome – Phil Lowe (Governor)
10:15 – 11:00
An Economic Update – Bradley Jones (Head of Economic Analysis)
11:00 – 11:45
Unconventional Monetary Policy – Andrea Brischetto (Deputy Head of Domestic Markets)
11:45 – 12:30
Lunch break
Meet Guy Debelle (Deputy Governor)
12:30 – 01:30
Explaining and Teaching Economic Concepts in the Classroom: The NAIRU
From the Bank – James Bishop (Senior Economist)
From the Classroom – Alex Symonds (Educators Advisory Panel)
01:30 – 02:15
Climate Change and Central Banking – Alex Heath (Head of International)
02:15 – 02:30
Closing remarks – Luci Ellis (Assistant Governor)