In a Nutshell
This series provides information about key economic concepts, interesting topics, and the role of the Reserve Bank on one page, telling the story in a nutshell.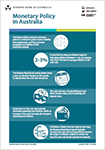 Describes why and how the Reserve Bank conducts monetary policy.
Download 110KB

Describes how the Reserve Bank implements monetary policy and keeps the cash rate as close as possible to its target.
Download 48KB

Defines Australia's inflation target and explains why and how it is used.
Download 89KB

Describes some of the most common payment methods used when paying for goods and services.
Download 88KB

Describes why and how the Reserve Bank helps maintain a healthy and stable financial system.
Download 141KB