Teacher Immersion Event – 2019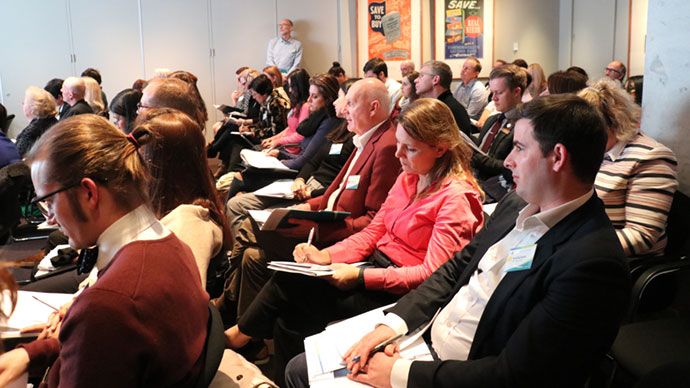 The Reserve Bank's third Teacher Immersion Event was held on Friday, 21 June 2019. This event provided an excellent opportunity for secondary school Economics teachers from across Australia to expand their knowledge of current economic issues and deepen their understanding of economic concepts. The event was also an opportunity for teachers to engage in professional discussions with their peers and practicing economists, including the Bank's Ambassadors.
Subscribe
Please subscribe to receive updates about upcoming events and new resources as part of the Reserve Bank's public education program.
Webcasts
Program
Time
Program item
8:30 – 9:00
Registration
9:00 – 9:15
Welcome
9:15 – 10:15
An Economic Update
Alex Heath (Head of Economic Analysis)
Slides

599KB

10:15 – 11:00
China: A Case Study
Ivan Roberts (Head of Asian Economies Research Unit)
Slides

435KB

11:00 – 11:30
Morning Tea and Networking
11:30 – 1:00

Explaining and Teaching Economic Concepts in the Classroom:

Economic Growth and Teaching about Economic Growth using RBA Resources
Tom Rosewall (Economic Analysis)
Slides 471KB

Timmee Grinham (Educators Advisory Panel)
Slides 3.64MB

1:00 – 2:00
Lunch and Networking
2:00 – 2:45
Understanding the NAIRU
Natasha Cassidy (Economic Analysis)
Slides

515KB

2:45 – 3:15
Implementation of Monetary Policy
Chris Becker (Domestic Markets)
Slides

1.36MB



3:15 – 3:45
Afternoon Tea and Networking
3:45 – 4:30
Panel Discussion: Your Questions Answered
4:30 – 4:45
Closing Remarks

Completing the Teacher Immersion Event will contribute 7 hours of NSW Education Standards Authority (NESA) Registered PD addressing 6.2.2, 6.3.2 and 7.4.2 from the Australian Professional Standards for Teachers towards maintaining Proficient Teacher Accreditation in NSW.