RDP 2014-05: The Changing Way We Pay: Trends in Consumer Payments

6. Personal Cheques

June 2014 – ISSN 1320-7229 (Print), ISSN 1448-5109 (Online)

The use of personal cheques for payments has continued to decline to the equivalent of three cheque payments per person per year in 2013, from eight in 2007.[15] Only one in five respondents said they had made a cheque payment in the year prior to the survey, although one in three reported having a cheque book.

Over the three studies, progressively smaller samples of cheque payments were recorded and this has made it difficult to perform a detailed analysis of trends in their use. However, the types of payment being made with cheques have remained similar over the six years. The majority of cheque payments continue to be made for household bills and for services. The remaining cheque payments were recorded as being made at merchants that respondents identified as 'other retailers' or 'other'. Consistent with their use for bill payments, the median value of a cheque payment ($160) was higher than that of cash or card payments.

The decline in the use of cheques is associated with the increasing proportion of the population that is likely to have never used cheques; around half of the cheques written during the week of the diary were by those aged over 65 years and fewer than 10 per cent by those aged under 40 years. Although cheque use was still relatively common among older respondents – 40 per cent of respondents aged over 65 years wrote a cheque during the year prior to the survey – cheque use recorded in the diary by this age group (as with all age groups) has fallen over time (Figure 10).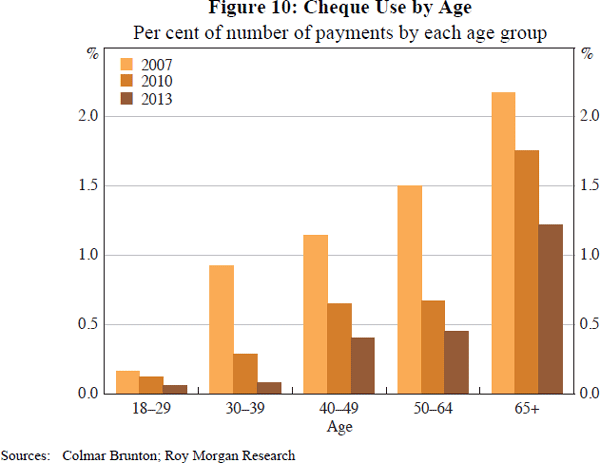 The decline in the use of cheques is expected to continue.[16] In light of this, the payments industry in Australia has embarked on a number of initiatives to manage the decline to ensure that the payment needs of individuals and businesses continue to be met at the same time as reducing costs to financial institutions. These include: the electronic clearing of cheques in lieu of physical exchange; developing electronic systems for industries that are more reliant on cheques (e.g. property settlements and superannuation payments); addressing laws that limit the allowable forms of payment to cash and cheques; and educating consumers about the available alternatives to cheques.[17]
Footnotes
Personal cheques refer to cheques written using a personal cheque book and drawing on a chequing account. Where households have used bank (financial institution) cheques – which are often used for larger purchases such as real estate settlements and car purchases – these are included in the 'other' payments category of the survey. A measure of the use of cheques that includes use by businesses and governments also shows a significant decline on a per capita basis (RBA 2013, p 14). [15]
Declining cheque use is common across the member economies to the Committee on Payment and Settlement Systems (RBA 2013, p 17). [16]
For further details see APCA (2013). [17]