Conference – 2015

Small Business Conditions and Finance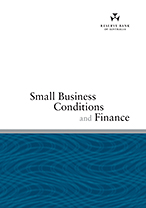 Editors: Angus Moore and John Simon
A volume, containing the conference papers and discussions, was published on 25 August 2015.
The theme of the Reserve Bank of Australia's conference in 2015 was 'Small Business Conditions and Finance'. The conference brought together senior central bankers, finance providers, small business representatives and leading academics to discuss the unique challenges faced by small business.
The discussions focused on a wide range of topics, including the challenges of obtaining small business finance, the diversity of Australian small business, the role of small businesses in driving the overall Australian economy, and the future of small business in Australia.
Contents
ISBN 978-0-9942093-2-0 (Print)
ISBN 978-0-9942093-3-7 (Online)