RBA Annual Conference – 2010

Reserve Bank of Australia 50th Anniversary Symposium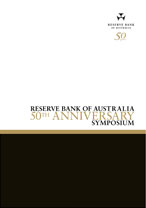 Editors: Christopher Kent and Michael Robson
A volume, containing the symposium papers and discussions, was published on 23 July 2010.
2010 marked the 50th Anniversary of the Reserve Bank of Australia. As part of the celebrations, a high-level Symposium was held in Sydney on Tuesday, 9 February 2010.
The Symposium was organised around several topics of critical importance to central banks, with papers commissioned to examine each. The first topic was the conduct of monetary policy – its objectives, means of operation and role in promoting macroeconomic stability. The second was the future shape of financial regulation, including the role played by international institutions and intergovernmental bodies. The third topic was supply-side issues – those factors influencing economic development and an economy's productive capacity and flexibility. In addition to keynote speakers, a number of distinguished panellists offered their views on the issues.
Contents
ISBN 978-0-9807068-7-1 (Print)
ISBN 978-0-9807068-8-8 (Online)