Continuous Linked Settlement:
RITS Session Times and Operational Arrangements – July 2015 1. Introduction
Continuous Linked Settlement (CLS) is a global initiative to reduce foreign exchange settlement risk by settling both legs of foreign exchange transactions simultaneously. Transactions are settled across the books of CLS Bank International (CLS Bank), a special purpose bank established to facilitate the CLS process. Payments between CLS Bank and CLS 'settlement members' for each participating currency are made in the local RTGS systems. Aside from the Australian dollar (AUD), the other six initial participating currencies were the US Dollar, Japanese Yen, Euro, Swiss Franc, Pound Sterling and Canadian Dollar. The Danish Krone, Norwegian Krone, Singaporean Dollar, and Swedish Krona commenced settlement in September 2003. The Hong Kong Dollar, South Korean Won, New Zealand Dollar and South African Rand commenced CLS settlement in December 2004. The Israeli Shekel and Mexican Peso commenced in May 2008.
The CLS settlement process takes place during the European morning (i.e. the Australian late afternoon/evening), during which time RITS and other participating RTGS systems must be open[1].
This information paper outlines RITS session times and operational arrangements for these extended hours.
1.1 CLS Bank Access to RITS
CLS Bank has an Exchange Settlement Account (ESA) with the Reserve Bank and is a member of the SWIFT Payment Delivery System (APCA's High Value Clearing System), through which CLS pay-ins and pay-outs in AUD are made.
CLS Bank does not have a RITS logon. The Reserve Bank undertakes any necessary RITS entries acting on instructions from CLS Bank, including use of RITS cash transfers if a contingency affects the ability of CLS Bank or a CLS participant (local settlement member or nostro agent of an overseas settlement member) to make CLS AUD payments using the SWIFT PDS.
In the extremely unlikely event of a major outage affecting RITS operations at its Primary and Secondary Sites, the Reserve Bank may at its sole discretion consider direct processing of CLS AUD payments across the Reserve Bank's internal accounting system if it is unaffected by the outage.
1.2 Need for Extension of RITS Operating Hours
CLS settlement processing for the Australian dollar (and the other 'Asia-Pacific' currencies) occurs during a 3 hour pay-in window, from 07:00 to 10:00 Central European Time (CET)[2]. This equates to 15:00 to 18:00 Australian Eastern Standard Time, and 17:00 to 20:00 in Australian Eastern Daylight (Savings) Time (summer time). There are three pay-in deadlines (for making AUD payments to CLS Bank across RITS), at 08:00, 09:00 and 10:00 CET.
After the CLS AUD pay-in window has closed, allowance must be made for remaining pay-outs by CLS and provision of time for participating banks to 'square up'. There may also be a need to further extend hours if there are pay-in failures and recourse needs to be made by CLS Bank to AUD liquidity providers. With the extension of the Evening Settlement Session to 22:00 in November 2013 to cater for same-day settlement of direct entry obligations, CLS operations could be extended to a full five hour period, or longer, depending on the time of the year.
To facilitate CLS-related settlement activity, RITS is open for extended hours beyond the normal settlement day, particularly during summer time. The diagram below illustrates: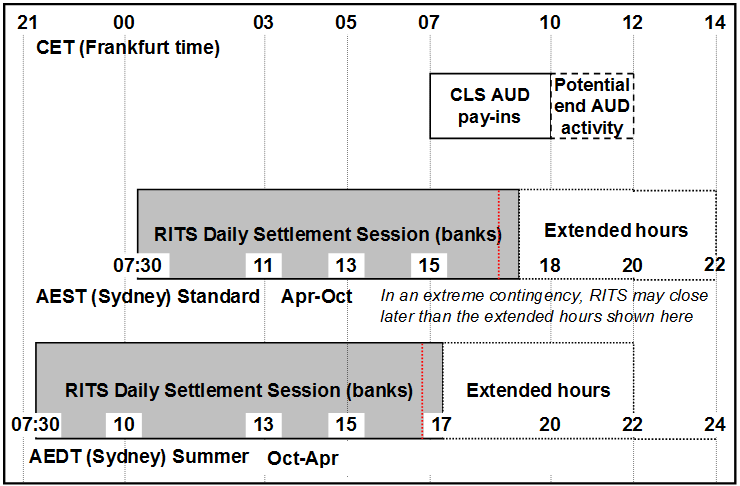 1.3 Overview of Extended Hours Operation
In changing RITS and planning extended session operations for CLS, the Reserve Bank was guided by the following objectives:
CLS settlement members and other banks, as necessary for their business, must be able to make and receive SWIFT payments until the end of CLS activity in AUD; this will be supported by interbank RITS and Austraclear activity.
Banks not participating in the Evening Settlement Session must be able to receive reports in a timely manner after the end of the Settlement Close Session.
Banks must be able to manage the end of the day satisfactorily; the cut-off for sponsored Austraclear client payments must remain unchanged.
The end of the Settlement Close Session and commencement of evening operations must be clearly defined.
To meet these objectives, the following broad session structure was implemented:
For banks not fully participating in the Evening Settlement Session (see below), the SWIFT day finishes at the end of the Settlement Close Session at 17:15.
The cut-off for sponsored Austraclear client payments was unchanged. These payments need to be settled by the end of the Settlement Close Session at 17:15.
Only transactions between eligible ('Evening Agreed') banks (refer section 2.1) remain on the RTGS queue at the end of the Settlement Close Session. All others are removed as 'unsettled at end of day' (refer sections 2.2 and 3.3).
At the end of the Settlement Close Session, a short Interim Session (currently of about 5 minutes) provides a bridge between 'day' and 'evening' operations. During this time the RTGS queue ceases settlement of transactions, and the interim Cashlist report and end-of-day SWIFT statements are created and sent as requested by banks.
The Evening Settlement Session follows and ends at 22:00 all year round [3].
SWIFT payments cut-off before the end of the Evening Settlement Session, to allow a 'squaring-off' period. MT103 customer payments cut off earlier than MT202 interbank transfers. All new MT103 payments cut off at 16:30; these may remain on the queue until the end of the Settlement Close Session (17:15) for those involving non-Evening Agreed banks and the end of the SWIFT End Session (18:30 AEST or 20:30 AEDT) for those between Evening Agreed banks. MT202 interbank transfers between Evening Agreed banks cut off at 18:05 (AEST) or 20:05 (AEDT).
Only eligible 'Evening Agreed' banks may make or receive eligible SWIFT payments during the evening.
Banks that are not 'Evening Agreed' may still undertake interbank liquidity transactions in RITS or Austraclear during the evening. These transactions need to be entered after the end of the Settlement Close Session.
Details of these arrangements are set out in later sections of this paper.
1.4. When Extended Operations Will Not Operate
Under the RITS Regulations, RITS is open whenever EITHER Sydney or Melbourne are generally open for banking business. Thus RITS is only closed on days that are public holidays in both Sydney and Melbourne.
However, there are some days on which RITS is open but it is not a good value date for AUD FX settlements, i.e. when Sydney is closed but Melbourne, and hence RITS, is open. These are usually the August Bank Holiday and October Labour Day public holiday, though there may occasionally be others.
The Reserve Bank will advise CLS of RITS and Sydney holidays. On these occasions, there will be no AUD FX instructions for CLS settlement. CLS will reject any AUD instructions received for settlement on these dates. Accordingly, full extended RITS session arrangements will not apply on Sydney public holidays. The SWIFT Final Settlement Session will operate[4] with a shorter duration. Banks need not vary their reporting choices on these occasions; both interim and final reports will still be available.
Footnotes
Note, however, there is a shorter settlement window for Asia-Pacific currencies. [1]
Other currencies have a five hour window, from 07:00 to 12:00 CET. [2]
This time was changed in November 2013. Prior to that, Evening Settlement Session closed earlier at 18:30 during standard time and 20:30 during summer time. The extension of settlement until 22:00 was put in place due to the introduction of the same-day direct entry settlement arrangements. [3]
It is not feasible to vary the basic RITS session structure on these occasions. [4]