Statement on Monetary Policy
November 2023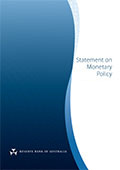 The Statement on Monetary Policy sets out the Bank's assessment of current economic conditions, both domestic and international, along with the outlook for Australian inflation and output growth. A number of boxes on topics of special interest are also published. The Statement is issued four times a year.
The material in this Statement on Monetary Policy was finalised on 9 November 2023.
Some graphs in this publication were generated using Mathematica.
ISSN 1448–5133 (Print)
ISSN 1448–5141 (Online)