Reserve Bank of Australia Annual Report – 2005

Note Printing Australia and Securency
Note Printing Australia
Note Printing Australia Limited (NPA), based at Craigieburn in Victoria, is a wholly owned subsidiary of the Reserve Bank producing currency notes, passports and other security documents for Australia and for export. It is the world pioneer in using polymer substrate and associated security features in manufacturing banknotes and it prints predominantly on Guardian ® substrate manufactured by Securency Pty Ltd (see below).
NPA's Board operates under a charter from the Reserve Bank Board and comprises Graeme Thompson, Chairman (a former Deputy Governor of the Reserve Bank), Richard Warburton AO (a former non-executive member of the Reserve Bank Board), Les Austin (a former Assistant Governor of the Reserve Bank), Mark Bethwaite (Managing Director and Chief Executive of Australian Business Ltd) and Frank Campbell (an Assistant Governor of the Reserve Bank). The Chief Executive of NPA is Chris Ogilvy.
During 2004/05, NPA produced 160 million notes for the Reserve Bank and 234 million export banknotes. Among the export deliveries were orders for Bank Negara Malaysia and Banco Central de Chile, which issued their first circulating polymer banknotes. NPA produced a further two new banknotes on polymer for the Brunei Currency and Monetary Board, and now all the commonly used banknotes in that country are on polymer. NPA also fulfilled repeat polymer banknote orders for the Reserve Bank of New Zealand.
For 2005/06, in addition to the Reserve Bank's requirements, NPA has confirmed orders for the production and delivery of 84 million export banknotes for countries in Asia and the Pacific. NPA was recently awarded a gold medal at the 22nd National Print Awards in the category of security printing for its Brunei $50 and $100 banknotes.
NPA transferred its in-house ink manufacturing facility to a commercial ink manufacturer as part of a new partnership agreement, which will ensure quality improvements and technological advancements in the ink manufacturing process. This new arrangement will further enhance the development of polymer banknotes worldwide.
NPA printed and assembled 1.4 million Australian passports during 2004/05 for the Department of Foreign Affairs and Trade. This complementary line of business has created a number of challenges for NPA, in particular the development and production of Australian 'e' passports, which will incorporate data stored on a chip. During the year NPA embarked on producing other secure documents, namely academic transcripts for a number of universities throughout Australia. Initial reaction to the academic transcripts has been very positive, with a number of enquiries received for further work in this area.
The National Note Processing and Distribution Centre (NNPDC), operated by NPA under contract from the Reserve Bank to process circulating Australian notes, has undertaken a major upgrade of its note-processing equipment. The installation of new equipment and training of staff has adversely affected throughput rates for the year; however, these are expected to improve in 2005/06.
NPA Polymer Notes Export Orders
Year of first issue
Customer
Denomination
Issue
1990
Singapore
50 Dollar
Commemorative
1991
Western Samoa
2 Tala
Circulating
1991
Papua New Guinea
2 Kina
Special Issue Circulating
1993
Kuwait
1 Dinar
Commemorative
1994
Indonesia
50,000 Rupiah
Special Issue Circulating
1995
Papua New Guinea
2 Kina
Special Issue Circulating
1996
Papua New Guinea
2 Kina
Circulating
1996
Brunei Darussalam
1, 5, 10 Dollar
Circulating
1996
Thailand
50 Baht
Commemorative
500 Baht
Special Issue Circulating
1997
Thailand
50 Baht
Circulating
1997
Western Samoa
2 Tala
Circulating
1998
Sri Lanka
200 Rupee
Circulating
1998
Malaysia
50 Ringgit
Commemorative
1999
New Zealand
5, 10, 20, 50,100 Dollar
Circulating
10 Dollar Millennium Note
Commemorative
1999
Papua New Guinea
50 Kina
Circulating
1999
Romania
2,000 Lei
Commemorative/
Circulating
1999
Indonesia
100,000 Rupiah
Circulating
2000
Romania
10,000 Lei
Circulating
2000
Romania
500,000 Lei
Circulating
2000
Papua New Guinea
2, 10, 50 Kina
Special Issue Circulating
2000
Papua New Guinea
10 Kina
Circulating
2000
Bangladesh
10 Taka
Circulating
2001
Kuwait
1 Dinar
Commemorative
2001
Solomon Islands
2 Dollar
Special Issue Circulating
2002
Mexico
20 Peso
Circulating
2002
Nepal
10 Rupee
Circulating
2003
Papua New Guinea
20 Kina
Commemorative
2003
Vietnam
50,000 Dong
Circulating
2004
Singapore
10 Dollar
Circulating/ Commemorative
2004
Brunei Darussalam
50, 100 Dollar
Circulating
2004
Chile
2,000 Peso
Circulating
2004
Malaysia
5 Ringgit
Circulating
A new occupancy agreement with the Reserve Bank was negotiated for the Craigieburn facility. This is consistent with NPA's focus on core business activities under its 'Back to Basics' strategy, where attention is focused on quality and product delivery, and where non-core activities are outsourced. NPA has also worked closely with the Reserve Bank in the area of information technology as NPA embarks upon replacing its existing system with a new fully integrated Enterprise Resource Planning system, which is expected to be operational in the latter half of 2005.
NPA has continued to work closely with Securency on research and development, marketing and customer support. PolyTeQ Services, a joint initiative of NPA and Securency, conducts the formal technology transfer program and training for printworks converting from paper to polymer banknotes.
Securency
Securency Pty Ltd was formed in 1996 as a joint venture between the Reserve Bank and Belgium-based UCB group. On 30 September 2004 Innovia Films, owned by a consortium led by Candover PLC, a leading UK private equity company, acquired UCB's films division, including the interest in Securency.
Securency supplies its press-ready Guardian ® polymer substrate to NPA and to printers for banknotes abroad, Sentinel ® for other high-security documents such as land titles, and Sentrii ® for secure cards. These products are produced by applying unique coatings and security features to specialised films produced by Innovia.
Securency's Board comprises three directors appointed by the Reserve Bank, three appointed by its joint-venture partner, and the company's Managing Director, Myles Curtis, as a non-voting member. Securency's offices and plant are located at Craigieburn, on the same site as NPA and adjacent to the films plant that supplies it.
The outlook for Securency looks increasingly promising after a long period of market - building. Recent repeat orders from several countries indicate a high degree of customer satisfaction.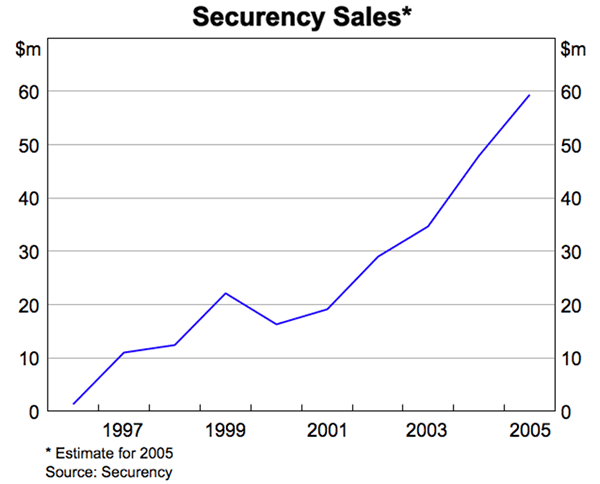 In 2004/05, Securency produced Guardian ® substrate for a range of banknote denominations in Australia, Brunei Darussalam, Chile, Malaysia, Nepal, New Zealand, Romania, Vietnam and Zambia. These included both repeat orders and new customers. The State Bank of Vietnam has announced that it will convert all its denominations to polymer.
Five new denominations were launched on Guardian ® polymer substrate in the 2004/05 financial year. This includes the Brunei $50 and $100 for Brunei Darussalam, the 100,000 dong for Vietnam, the 2,000 peso for Chile and the 5 ringgit for Malaysia. Additionally, Banco de Mexico has announced that it will issue its 50 peso banknote on polymer in 2006.
The National Bank of Romania will issue a new series of the Leu printed on Guardian ® polymer substrate during 2005. In all, 23 countries have now issued polymer banknotes, with representatives on all continents. Australia, New Zealand and Romania have converted all their denominations to polymer.
To broaden its market, Securency has successfully marketed polymer substrate for secure documents. Sentinel ® substrate was produced for a land title for Taiwan and for education certificates for both Australian and Vietnamese universities.
During 2004/05, Securency received the Austrade Business Entrepreneurial Award for its work with the State Bank of Vietnam. This award recognises Australian businesses that have made a significant business breakthrough in developing business opportunities during the year. Additionally, Securency was awarded a gold medal for innovation, for the 100,000 dong, at the 22nd National Print Awards. This note comprises high-security features including the DOE™, which has been an integral security feature on all three Vietnam notes issued to date.