Reserve Bank of Australia Annual Report – 2004

Note Printing Australia and Securency
Note Printing Australia
Note Printing Australia Limited (NPA), based at Craigieburn in Victoria, is a wholly owned subsidiary of the RBA producing banknotes, passports and other security documents for Australia and for export. It is the world pioneer in using polymer substrate and associated security features in manufacturing banknotes and it prints on Guardian® substrate manufactured by Securency Pty Ltd (see over).
NPA's Board operates under a charter from the Reserve Bank Board and comprises chairman Graeme Thompson (a former Deputy Governor of the RBA), Richard Warburton (a former non-executive member of the Reserve Bank Board), Les Austin (a former Assistant Governor of the RBA), Mark Bethwaite (Chief Executive of Australian Business Ltd) and recently appointed Frank Campbell (an Assistant Governor of the RBA).
John Leckenby, NPA's Chief Executive since 1998, retired in mid 2004. Chris Ogilvy is the newly appointed Chief Executive, joining NPA with long experience in the security printing and credit card industries.
During 2003/04, NPA produced 78 million banknotes for the RBA and 87 million export banknotes. An important activity was fulfilling an order for the Monetary Authority of Singapore that issued its first circulating polymer banknote. NPA also worked closely with Vietnamese and Romanian authorities and their printers on the design and production of polymer banknotes issued in those countries.
For 2004/05, in addition to the RBA's requirements, NPA has confirmed orders for the production and delivery of over 300 million export banknotes in Asia, the Pacific and South America. Two-thirds of these are for new customers to polymer banknotes, the remainder being repeat orders.
Full production commenced late in 2003 of the printing and assembly of the new Australian passport for the Department of Foreign Affairs and Trade (DFAT), with new design elements and novel security devices. The next phase in the development and production of Australian passports is the chip insertion program on which NPA has been working closely with DFAT.
NPA operates the National Note Processing and Distribution Centre (NNPDC), under contract with the RBA. The NNPDC, which dispatches and receives notes from commercial banks and processes most notes received, is undergoing a major upgrade of its processing equipment. Acceptance testing of the new equipment commenced in July 2004, with full integration expected by end 2004.
During the year, NPA introduced a new inspection system to improve the quality of notes and reduce reliance on manual examination. Partly because of this, it restructured its activities and reduced staffing levels by 31. The current workforce of 200 is employed under an enterprise bargaining agreement that was renegotiated in early 2004.
NPA Polymer Notes Export Orders

| Year of first issue | Customer | Denomination | Issue |
| --- | --- | --- | --- |
| 1990 | Singapore | 50 Dollar | Commemorative |
| 1991 | Western Samoa | 2 Tala | Circulating |
| 1991 | Papua New Guinea | 2 Kina | Special Issue Circulating |
| 1993 | Kuwait | 1 Dinar | Commemorative |
| 1994 | Indonesia | 50,000 Rupiah | Special Issue Circulating |
| 1995 | Papua New Guinea | 2 Kina | Special Issue Circulating |
| 1996 | Papua New Guinea | 2 Kina | Circulating |
| 1996 | Brunei Darussalam | 1, 5, 10 Dollar | Circulating |
| 1996 | Thailand | 50 Baht | Commemorative |
| | | 500 Baht | Special Issue Circulating |
| 1997 | Thailand | 50 Baht | Circulating |
| 1997 | Western Samoa | 2 Tala | Circulating |
| 1998 | Sri Lanka | 200 Rupee | Circulating |
| 1998 | Malaysia | 50 Ringgit | Commemorative |
| 1999 | New Zealand | 5, 10, 20, 50 & 100 Dollar | Circulating |
| | | 10 Dollar Millennium | Commemorative |
| 1999 | Papua New Guinea | 50 Kina | Circulating |
| 1999 | Romania | 2,000 Lei | Commemorative/Circulating |
| 1999 | Indonesia | 100,000 Rupiah | Circulating |
| 2000 | Romania | 10,000 Lei | Circulating |
| 2000 | Romania | 500,000 Lei | Circulating |
| 2000 | Papua New Guinea | 2, 10, 50 Kina | Special Issue Circulating |
| 2000 | Papua New Guinea | 10 Kina | Circulating |
| 2000 | Bangladesh | 10 Taka | Circulating |
| 2001 | Kuwait | 1 Dinar | Commemorative |
| 2001 | Solomon Islands | 2 Dollar | Special Issue Circulating |
| 2002 | Mexico | 20 Peso | Circulating |
| 2002 | Nepal | 10 Rupee | Circulating |
| 2003 | Papua New Guinea | 20 Kina | Commemorative |
| 2003 | Vietnam | 50,000 Dong | Circulating |
| 2004 | Singapore | 10 Dollar | Commemorative/Circulating |
NPA has continued to work closely with Securency on research and development, marketing and customer support. Securency's marketing strategy includes NPA printing 'start-up' orders for those countries with their own printworks which are converting from paper to polymer banknotes. These 'start-up' volumes are produced as part of a formal technology, training and knowledge transfer program conducted by PolyTeQ Services, a joint initiative of NPA and Securency. This assists banknote printers and issuers with all facets of the conversion from paper to polymer, drawing on the now extensive experience available from Australia and other countries.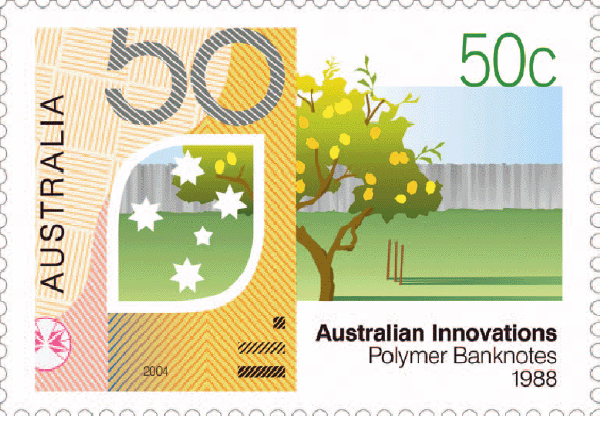 The development and production of polymer banknotes by NPA was acknowledged by Australia Post in its 'Australian Innovations' commemorative stamp issue in 2004.
Securency
Securency Pty Ltd was formed in 1996 as a joint venture between the RBA and Belgian-based UCB Group, a manufacturer of unique polypropylene films, resins, coatings and pharmaceuticals. In mid 2004 a consortium led by Candover PLC, a leading UK private equity company, announced that it would acquire UCB's films division, including the interest in Securency.
Securency supplies its press-ready polymer substrate, Guardian®, to NPA and to overseas printers for banknotes, Sentinel® for other high-security documents such as land titles, and Sentrii™ for secure cards. These products are produced by applying unique coatings and security features to specialised films.
Securency's Board comprises three directors appointed by the RBA, three appointed by its joint venture partner and the company's Managing Director, as a non-voting member. Myles Curtis has been Securency's Managing Director since 1996. Securency's offices and plant are located at Craigieburn, on the same site as NPA and adjacent to the films plant that supplies it.
In 2003/04, Securency produced substrate for a range of banknote denominations in Australia, Brunei, Malaysia, New Zealand, Papua New Guinea, Romania, Singapore and Zambia. These included both repeat orders and new customers. The major order was from the State Bank of Vietnam, which subsequently issued the new VND50,000 and VND500,000 polymer notes in December 2003. The polymer VND50,000 replaced an existing paper note and is a widely circulating note dispensed by automated telling machines, while the VND500,000 is a new denomination. The decision to introduce polymer followed several years of evaluation and printing trials by Vietnam's National Banknote Printing Plant.
In another significant development, the Bank of Zambia issued two denominations on polymer, the 500 and 1000 Kwacha. These were the first polymer notes to be issued on the African continent and were printed by the Canadian Bank Note Company. Securency also won some important new contracts in Asia and South America that will result in new note issues later in 2004. Meanwhile, circulation trials in Brazil and Mexico are progressing well, with the authorities in both cases considering issuing further denominations.
The international market remains very competitive with excess printing capacity and security paper manufacturers determined to retain long-established customers. Even so, Securency is continuing to make headway in building an export market and establishing polymer as a highly credible alternative to traditional paper. In all, 22 countries have now issued polymer banknotes – another two will soon be added – with representatives on all continents. Australia, New Zealand and Romania have converted all their denominations to polymer.
To broaden its market, Securency plans to market polymer substrate for secure documents and payment/identification cards.
An increase in sales, higher average margins due to the inclusion of advanced security features, and tighter cost control each contributed to a stronger bottom line result for Securency in 2003/04. There was more economical use of material due to lower spoilage (assisted by longer production runs) and better management of stocks of raw materials. The stronger Australian dollar helped reduce the cost of imported materials.
During the year, Securency purchased the pre-press equipment of Toyo Ink (Australia) Pty Ltd to ensure guaranteed domestic access to engraved printing cylinders and also bring in-house an important element of the production process. It also invested in a purpose-built sheeter to improve efficiency. Both of these acquisitions became operational in recent months. Securency was awarded ISO14001:1996 Environment Management System Accreditation in April 2004.
In co-operation with its partners, including NPA and the RBA, Securency conducts research into new security features for polymer notes. A new self-authenticating feature is due to be released on a commercial basis later this year.