Reserve Bank of Australia Annual Report – 1988

The Bank's Staff

The process of change in the financial system has brought new challenges for the Bank and imposed new demands on the Bank's staff. In some areas, the market-oriented basis for the conduct of monetary policy and financial system supervision have meant that the range of work and the skills required have expanded sharply. In other areas, functions have been reduced or have disappeared. This, together with improved technology, has reduced job opportunities and created an unavoidable need to reduce staff numbers. This is a situation currently common to most central banks. These developments have created uncertainties for many valued officers. The Board is especially appreciative of the staff's efforts and achievements in these rapidly changing and sometimes difficult circumstances.

The Bank's staff numbers declined over 1987/88 by 252 or about 7 per cent, bringing the aggregate fall over the past two years to 12 per cent. Declines in staff have been largest in traditional operational areas, particularly in the Bank's branches and in the supporting areas of Head Office.

The reduction in overall numbers has been brought about through a combination of natural attrition and early retirement/voluntary redundancy programmes. Further such programmes are likely to be needed in the future.

The emphasis on the use of sophisticated financial markets in conducting monetary policy, and the greater complexity of banking supervision and financial surveillance, highlights the need for high calibre staff. One response to this has been the Bank's continuing programme of short-term secondments to other financial institutions. This has been extremely valuable and the Bank appreciates the co-operation of the banks and other financial institutions involved.

The Bank sponsors staff members at a wide range of shorter-term training programmes. As well, it undertakes an extensive programme of in-house training, including aspects of computer skills, management training and the development of communication skills.

In future, much of the Bank's in-house training will be conducted at its new residential centre at Kirribilli, Sydney.

Bank staff participate in a range of courses overseas, including those sponsored by the Bank of Japan, the Federal Reserve Bank of New York, the Bank of England and the International Monetary Fund, as well as some conducted by major private financial institutions.

Assistance is extended to staff who undertake a range of formal studies relevant to the Bank's activities. Around 200 staff were receiving such study assistance at the end of 1987/88. A Post-Graduate Award Scheme enables a small number of staff to undertake advanced studies in Australia and overseas. The Bank again employed a number of young people under the Australian Government Trainee Scheme and under the auspices of AIESEC, an international student body.

Equal Employment Opportunity legislation applying to the Bank became operative on 1 July 1987. The Bank's first EEO report in terms of that legislation is being prepared for tabling in Parliament. During the year, a general survey of staff was conducted and EEO liaison groups were established to gather a broader range of views from staff.

21 TOTAL RESERVE BANK STAFF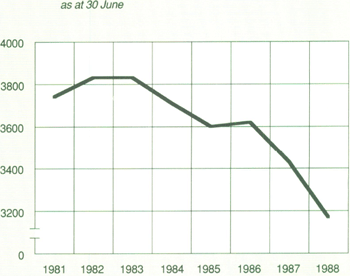 Changes in senior management
Mr R.J. Dowey, Adviser with special responsibility for legal matters, retired during the year after a long career with the Bank. He was the Bank's Senior Solicitor for some years, Secretary of the Bank from 1974 to 1980 and, later, Chief Representative in Europe.
Mr N.J. Brady, Head of Supervision, retired on 1 July 1988, following a distinguished career, most notably in recent times in connection with the entry of new banks into Australia and the development of the Bank's system of prudential supervision.
Mr P.D. Jonson, for some years Head of Research, resigned during the year to take up a position in the private finance sector.
Mr I.D. Whittaker, Senior Manager, Building Services Department, retired on 1 July 1988. He was succeeded by Mr J.R.R. Cook who has previously worked as a private sector consultant and also in a large public sector enterprise.
Mr G.F. Willson, formerly a private sector consultant, was appointed Senior Manager, Systems and Technology Department.
Bank staff 30 June 1988
Monetary Policy
229
Financial System Surveillance
110
Note Printing
517
Currency Distribution
294
Banking Services
739
Inscribed Stock Registries
193
Accounting and Computer Services
221
Personnel and other support functions
453
Building Security and Maintenance
416
3,172