Financial Stability Review
October 2023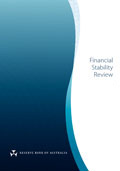 The Financial Stability Review provides the Bank's assessment of the current condition of the financial system and potential risks to financial stability. It is issued half-yearly.
Download the complete Review

5MB
Contents
The material in this Financial Stability Review was finalised on 5 October 2023 and uses data through to 5 October 2023.
ISSN 1449–3896 (Print)
ISSN 1449–5260 (Online)