Financial Stability Review
April 2017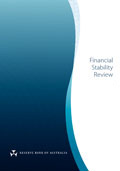 The Financial Stability Review provides the Bank's assessment of the current condition of the financial system and potential risks to financial stability. It contains a number of boxes on topics of special interest, along with occasional articles. The Review is issued half-yearly.
Download the complete Review

2.45MB
Contents
The material in this Financial Stability Review was finalised on 12 April 2017.
ISSN 1449–3896 (Print)
ISSN 1449–5260 (Online)