Conference – 2012
Property Markets and Financial Stability
20–21 August 2012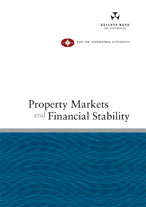 The theme of the joint conference between the Reserve Bank of Australia and the Bank for International Settlements in 2012 was 'Property Markets and Financial Stability'. The conference brought together senior central bankers and leading academics to discuss important policy issues concerning property markets and financial stability. Discussions focused on several important topics, including measurement issues in property prices, housing finance, the effects of macroprudential policies, the management of banks' risks and securitisation.
Editors: Alexandra Heath (RBA), Frank Packer (Bank for International Settlements) and Callan Windsor (RBA)
A volume, containing the conference papers and discussions, was published on 11 December 2012. To order a hard copy of the volume, please complete the Publications Order Form.
Download the complete Volume [PDF 9.4M]
Contents
Property Market Cycles as Paths to Financial Distress HTML PDF 739K
Luci Ellis, Mariano Kulish and Stephanie Wallace
Taming the Real Estate Beast: The Effects of Monetary and Macroprudential Policies on Housing Prices and Credit HTML PDF 897K Kenneth Kuttner and Ilhyock Shim
Closing Remarks: Property Markets and Financial Stability – Issues and Interpretations HTML PDF 480K
Stephen G Cecchetti
ISBN 978-0-9873620-3-2 (Print)
ISBN 978-0-9873620-4-9 (Online)