Conference – 2004
The Future of Inflation Targeting
9–10 August 2004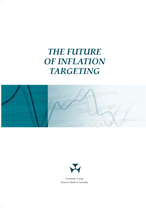 The 2004 conference focused on various issues related to inflation targeting including: the evolution of inflation-targeting regimes; the measurement of inflation; understanding the properties and determinants of Australian inflation; theoretical and practical issues related to central bank communication and transparency; and how inflation targeting might need to adapt to future challenges.

A volume, containing the conference papers and discussions, was published on 15 November 2004.

To order a hard copy of the volume, please complete the Publications Order Form.
Download the complete Volume [PDF 1.6M]
Contents